You make me feel like a hundred dollars.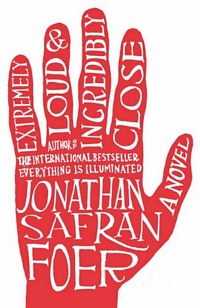 Extremely Loud & Incredibly Close - Jonathan Safran Foer
Last Saturday night I ate too fast and a piece of Chicken Ala King got stuck in my throat. You know. that place that connects your nose and throat?
Yea, I could feel a piece of chicken in there.
I snorted and snorted but it went further in.
The ultimate disaster. You can feel it's just there in your nose but your fingers are just a wee bit short to dig it out.
Now I think I got infected and sore throat/flu.
Which, on the bright side gave me time to stay on my bed and finish this book I've been reading for the past 2 weeks.
I say:

READ THIS BOOK NOW!
If you only read one book a year, make it THIS book.
The story: A 9-year-old genius, whose father died during 9-11 set out to solve a mystery of a key he found in his father's closet.
It's not about the story. It's HOW the story was told.
Beautiful words. Engaging, and the layout of the book is incredible. Did I just say layout? YES! The layout and fonts in the book change from time to time. Which is why I think it's special.

And the story is heart warming. Or depressing. Depends if you're an optmistic or pessimistic person.
Please read this book, if you see yourself as a reader.