Argh I can't slow down water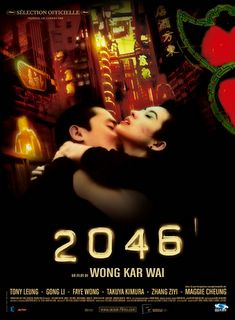 Giants making out. Not a good thing.
I put on a random Vocal Jazz CD. I'm listening to Dinah Washington, I'm staring into space. Legs crossed, I tried to type with one hand. Slowly. Without care.
All I need now, is a cigarette to make me look cool.
That's what a Wong Kar Wai movie does to you. He makes the least appealing thing looks so romantic. So charming and breathtaking.
If you can't stomach Wong Kar Wai, then I'm sure you'll find this movie painful as falling down a fleet of stairs from a bike with your shirt stuck to the wheels.
To quote a WKW critic: "A dreamy, ravishing ode to romantic longing, and it is bound to frustrate people who like their movies to get to the point, or at the very least have one."
Nonetheless, I like it.
I like his way of not having scripts for the actors so that they will seem most natural and show their true personality on screen.
So I think you can only grasp his movies truly when you understand the language because the cultural essence is there.

WKW got the movie idea during the handover of Hong Kong. The government promised 50 years of change.
50 years after 1997 would be of course, 2046.
Ultimately, the movie is about promises, and changes.
I'm not even going to try explaining the movie. Just that there's tons of metaphors and hints and comparison.
Some you'll get them straightaway, some key points and subtle hints you'll only realised them 3 days after, like I did.
The style of
2046
is like a crossover between
Chungking Express
and
In The Mood For Love
. Tony Leong's nerrative voice is back accompanied by the vivid colours of 1960s and the future's train to nowhere. Brings back memory.
Just like how in the movie they say: memories stay in
2046
.
Such a pun.
And yes I know this movie is one year old. But I'm in Australia. And only old people will watch 2046 and pretend they understand about WKW's movies here.
photo from zreview.co.uk