Due in 2 hours time
I'm assuming that people who visit this blog are mostly uni students, or people with hearts as young.
So erm, if you were to have these ads in your mailbox. Would you actually be interested? Or, they'll just end up in the bin?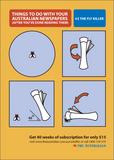 I knocked these out in 3 hours time. But it's still better than their current poster with nothing but a big '$15' on it.
The question is, I guess, is that do they appeal to you as a student? Or you just don't read newspapers? Hmm.
Kindly do me a favour and comment on this one.